It's time for your Omicron booster, New Mexico.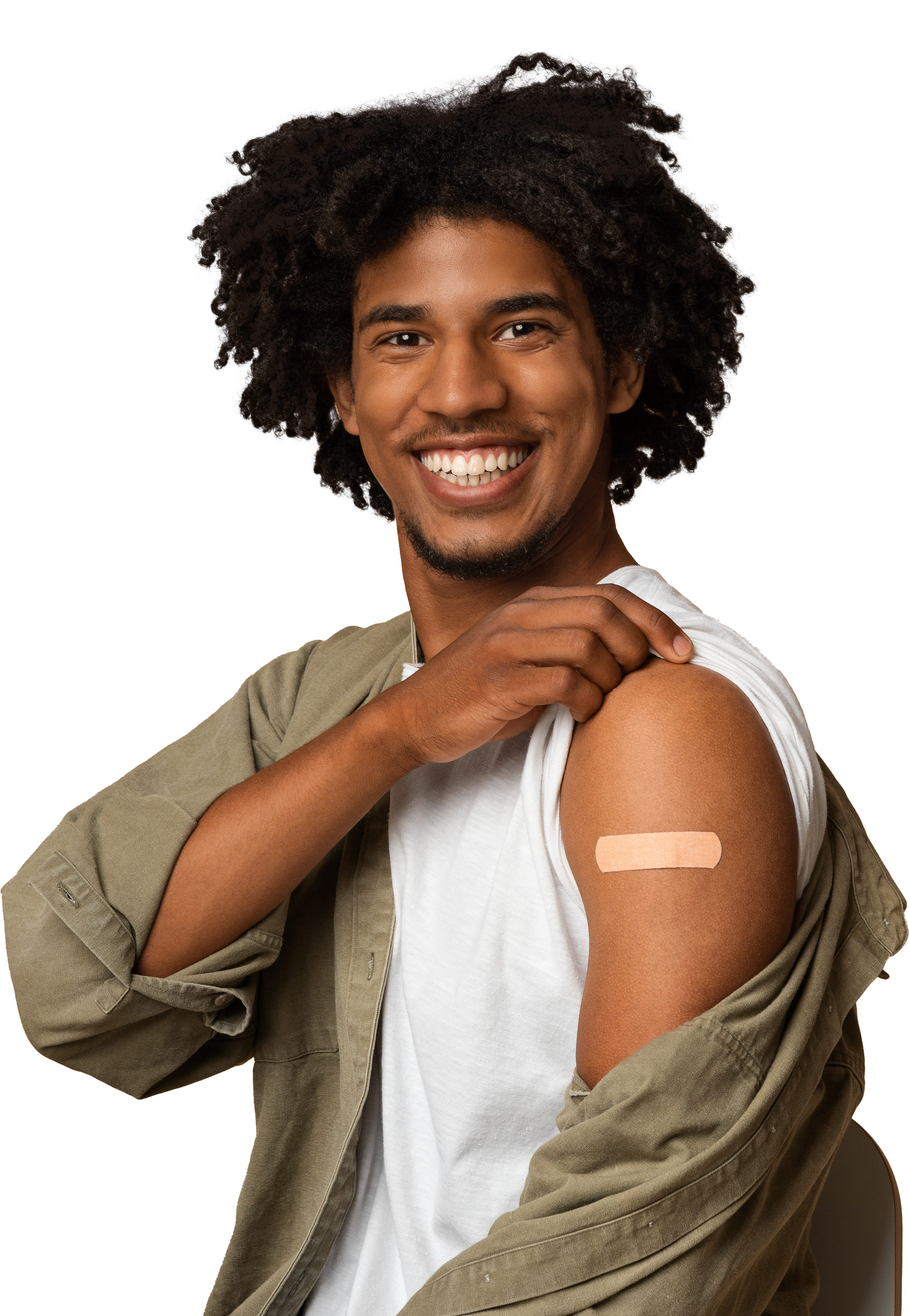 Did you know the virus that causes COVID-19 changes over time?
Safeguard your family and friends this autumn by receiving the Omicron booster. The Omicron booster is designed to offer broad protection from the original virus strain and the Omicron variant for everyone 6 months or older. If you've received at least two doses* of COVID-19 vaccine and it's been at least two months, schedule your booster appointment below.
*or one if you received Johnson & Johnson
Are you eligible for the Omicron booster?
You have received at least two doses of COVID-19 vaccine
*or one if you received Johnson & Johnson
It has been at least 2 months since your last vaccine
You are 6 months or older
If you meet the criteria above, don't wait. Schedule your Omicron booster today!
Frequently Asked Questions about the Omicron Booster
What are these new COVID-19 boosters, and how do they differ from the existing ones?
Until now, COVID-19 booster shots have been monovalent or univalent. That means they only contained one version of the mRNA sequence for the SARS-CoV-2 virus' spike protein — the one that came from the original strain which emerged in late 2019 in Wuhan, China.
The boosters that just got approved are considered bivalent vaccines. That means they contain the mRNA sequence for the spike protein of two strains of SARS-CoV-2:
the original strain from Wuhan, and
the current predominant subvariant of Omicron, BA.5.
The spike protein on the surface of both Omicron's BA.4 and BA.5 subvariants is the same. So, this booster will protect you against both.
Who is eligible for a Omicron COVID-19 booster shot?
The two vaccines have different age restrictions.
Moderna: 6 years and older
Pfizer: 5 years and older
You only need a single booster shot of the Omicron vaccine to be considered fully boosted, but you're not eligible to get it unless you've already been fully vaccinated with either Johnson & Johnson/Janssen's original one-shot regimen, or Pfizer or Moderna's original two-shot regimen.
You're eligible to get an Omicron booster shot two months after you've been fully vaccinated.
Can I get a Omicron booster now if I just recently got my second univalent booster?
No. You'll need to wait until two months have passed since your last booster shot.
But don't kick yourself, even if you just got one and now wish you'd waited. The entire point of getting a booster shot is to continue expanding your protection. So, the more boosters you get, the better protection you'll have.
How long do I need to wait to get the Omicron booster if I've had COVID-19?
If you were very ill, you'll need to wait at least until the worst of your symptoms have resolved, and you have met the criteria to leave isolation. Patients with recent COVID-19 infections also have the option of waiting three months instead of two (counting from the time they first showed symptoms or tested positive) to get a booster shot.
Talk with your doctor to determine the best timing for you to get one if you have any questions.
Are there any special considerations around scheduling, given that it's also time for flu vaccines?
No. The Centers for Disease Control and Prevention (CDC) say there's still no need to stagger your vaccinations. So, if you're due for both, you can get your flu shot and your COVID-19 booster at the same time on the same day. You can even get them in the same arm, if you want to cut down on the amount of soreness you experience.
Is there any reason not to mix and match boosters, by getting your Omicron from a different manufacturer than you did the first time?
No. It's OK to mix and match as long as you're eligible for the vaccine you prefer.
All of the data that previously showed there were no big differences between those who mixed and matched and those who didn't still applies.
What about immunocompromised patients? Any special rules for them?
No. It's already becoming increasingly rare to die or become severely ill from COVID-19. But this Omicron vaccine is another step in the march toward a more endemic stage.
The infrastructure is already in place to make massive quantities of vaccine in a very short time. So, anything after BA.5 could theoretically be added to the composition of the next booster. COVID-19 boosters will likely be multivalent from here on out, just like with the flu. And for patients who haven't been able to mount a sufficient defense against COVID yet, repeated boosters will finally allow them to get there.
Can I get the Omicron booster if I regularly receive EVUSHELD injections to protect myself from COVID-19?
Yes. Those who take EVUSHELD antibody therapy to protect themselves from severe COVID-19 infection can receive the Omicron booster, if eligible. Those who receive a vaccine dose (primary or booster) should wait at least two weeks before getting the EVUSHELD injection, according to the CDC's advisory group.
Where can I find a Omicron COVID-19 booster?
Once Omicron COVID-19 boosters become available, you should be able to obtain one anywhere you'd normally get a COVID-19 vaccination or flu shot.
Why was the Omicron COVID-19 booster approved without human testing?
To get ahead of the rapidly changing coronavirus, the FDA approved these Omicron boosters before they have been tested in clinical trials in people. Moderna's clinical trial of its Omicron BA.4/5 booster is fully enrolled and currently underway, while the clinical trial of the Pfizer-BioNTech Omicron booster is set to begin in September.
Data from these trials will not be available until later this year. By then, a new coronavirus variant may have emerged. The FDA said in a statement that it based its decision on the "totality of available evidence."
This includes animal studies on the BA.4/5 boosters, clinical trials of Omicron BA.1 boosters, clinical trials of the original vaccines and boosters, and ongoing monitoring of the safety of the current vaccines. With the COVID-19 vaccines, there is already a long track record of safety to support the new Omicron boosters.
Is it the flu or COVID-19?
Influenza (flu) and COVID-19 are both contagious respiratory illnesses but are caused by different viruses. COVID is caused by an infection with a coronavirus (SARS-CoV-2) while the flu is caused by an infection with a flu virus.