Community Resource Center
Welcome to the New Mexico Department of Health (NMDOH) Community Resource Center!
To change this page's language, use the 'Select Language' button in the top right corner of the page. Para cambiar el idioma de esta página, use el botón 'Select Language' en la esquina superior derecha.
Our vaccine mission at the NMDOH is to vaccinate New Mexicans swiftly, efficiently, and equitably to save lives and stop the spread of the virus. We hope this resource page can be one of the tools to help make it easier for communities to join us in the effort to vaccinate our most vulnerable populations. 
This website was developed with the input of our community partners. We hope this will be a helpful one-stop resource for our community partners, Community Health Workers (CHWs) and Community Health Representative (CHRs) to quickly link to registration, flyers,  training materials, data, and trusted resources.
The New Mexico Department of Health wants to ensure everyone has equitable access to COVID-19 related news and other important information.
We have created powerpoints, specifically for community-based members, with a summary of new COVID-19 key messaging and data:
There are three easy ways to get the vaccine in New Mexico. 
Online Registration at vaccinenm.org

Phone Registration by calling the hotline at 1-855-600-3453

Walk-In at available sites.
Note: Children ages 12-17 are only eligible for Pfizer doses.
Anyone 18 and over are eligible for any doses: Pfizer, Moderna and J and J
Individual Vaccine Registration
1. Online (24/7):
Step 1: Go to vaccinenm.org/registration.html
Step 2: I want to create a new profile
Step 3: Follow the instructions on the site until completion.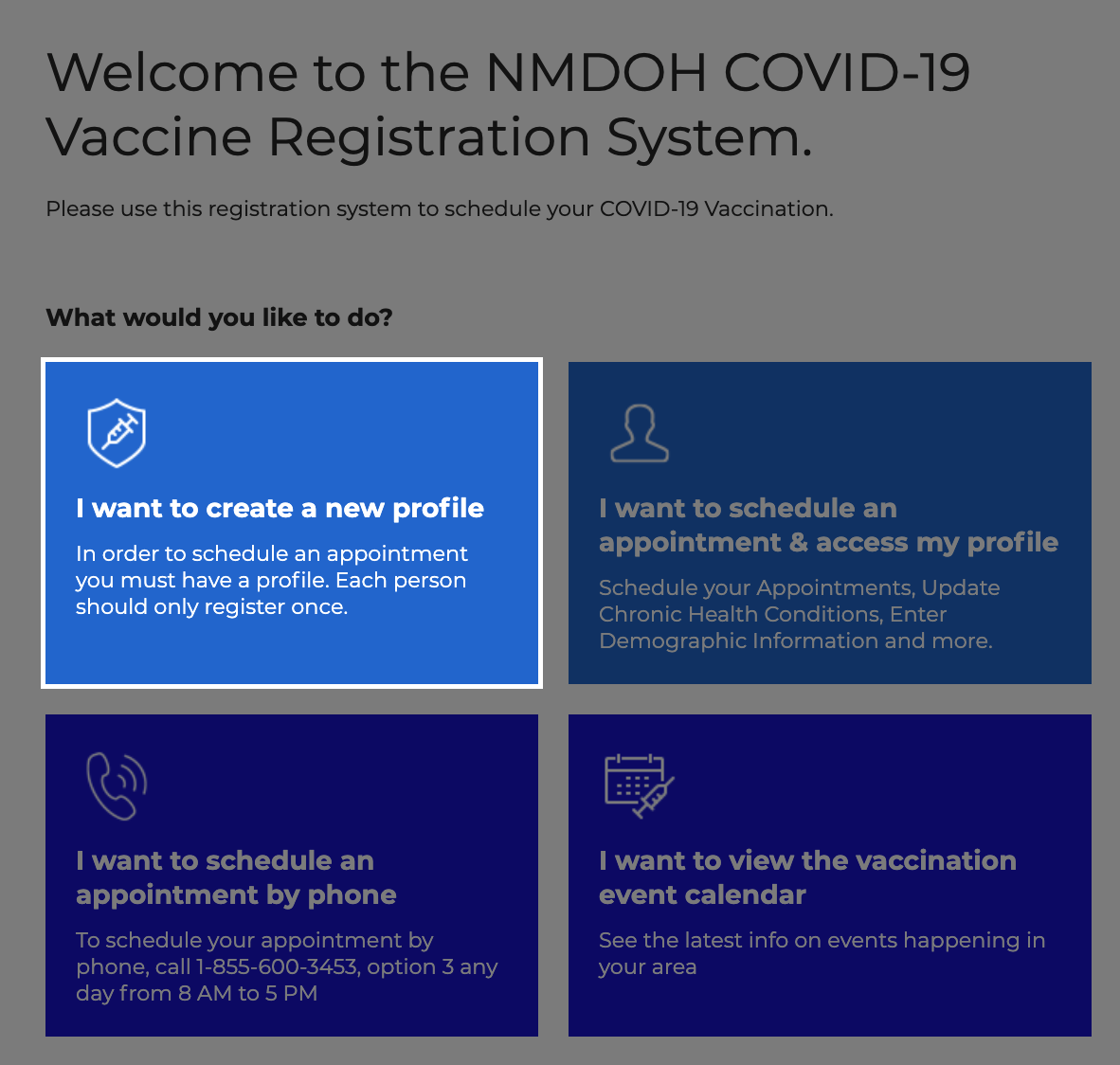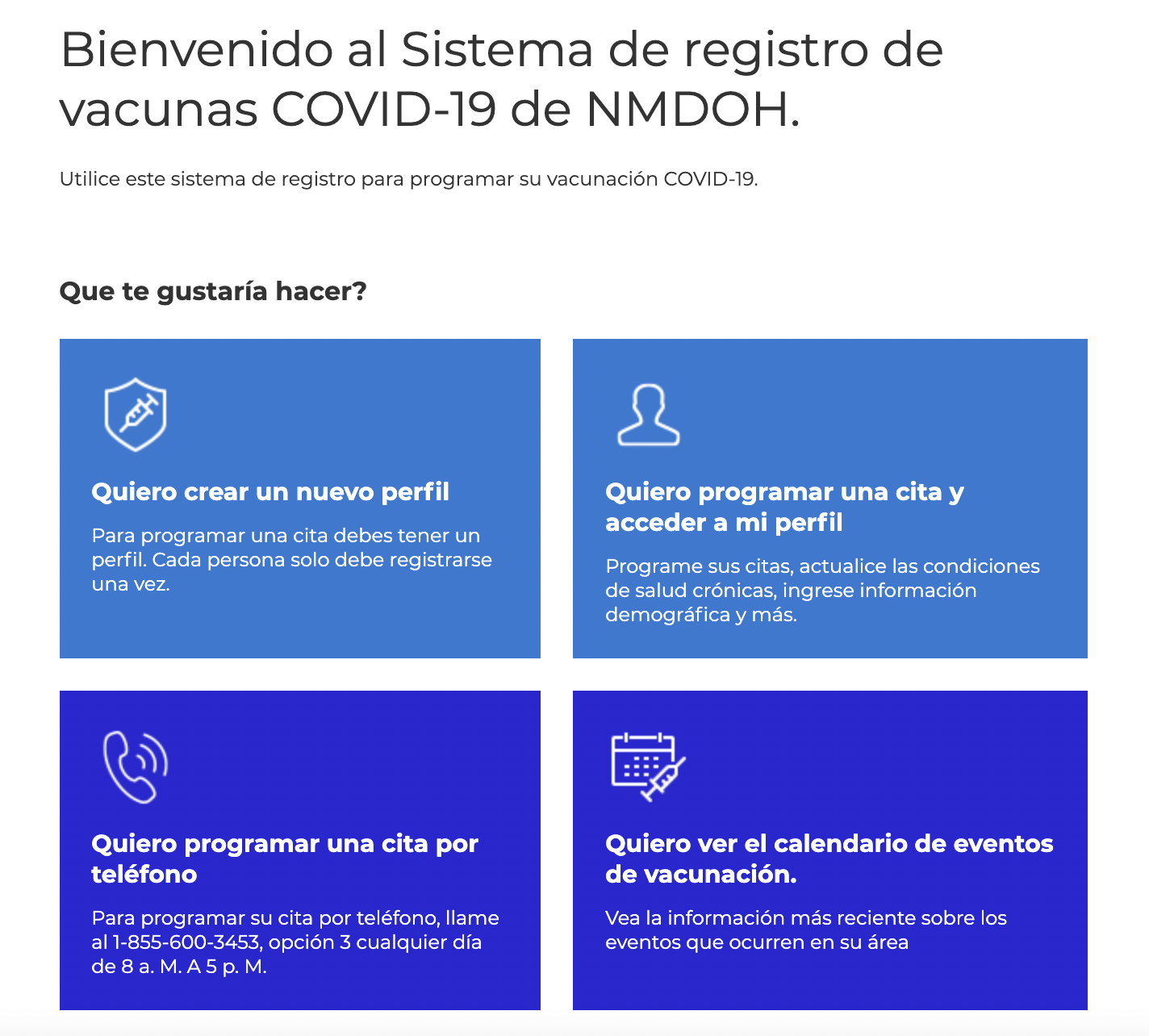 2. Phone (Available 8AM-5PM every day):
Users who have questions or would like support with the registration process (including New Mexicans who do not have internet access) can dial 1-855-600-3453 and press 1 (o 3 para español).
Seniors and those with disabilities can call 1-800-432-2080 for support with registration and scheduling.
Step 1: Call 1-855-600-3453 Option 3
Step 2: Tell them you would like to make a vaccine appointment at a site near you
Step 3: Provide a zip code or area
3. Walk-In
Many of the NMDOH Sites take walk-ins.
Currently all the FEMA Mobile Team and NMDOH Sites take Walk-ins:
Step 1: Find a walk-in appointment
Step 2: Go to an event with the vaccine you need
Here is the link to the map where you can find your appointment: vaccinenm.org
On-Site Vaccine Event Request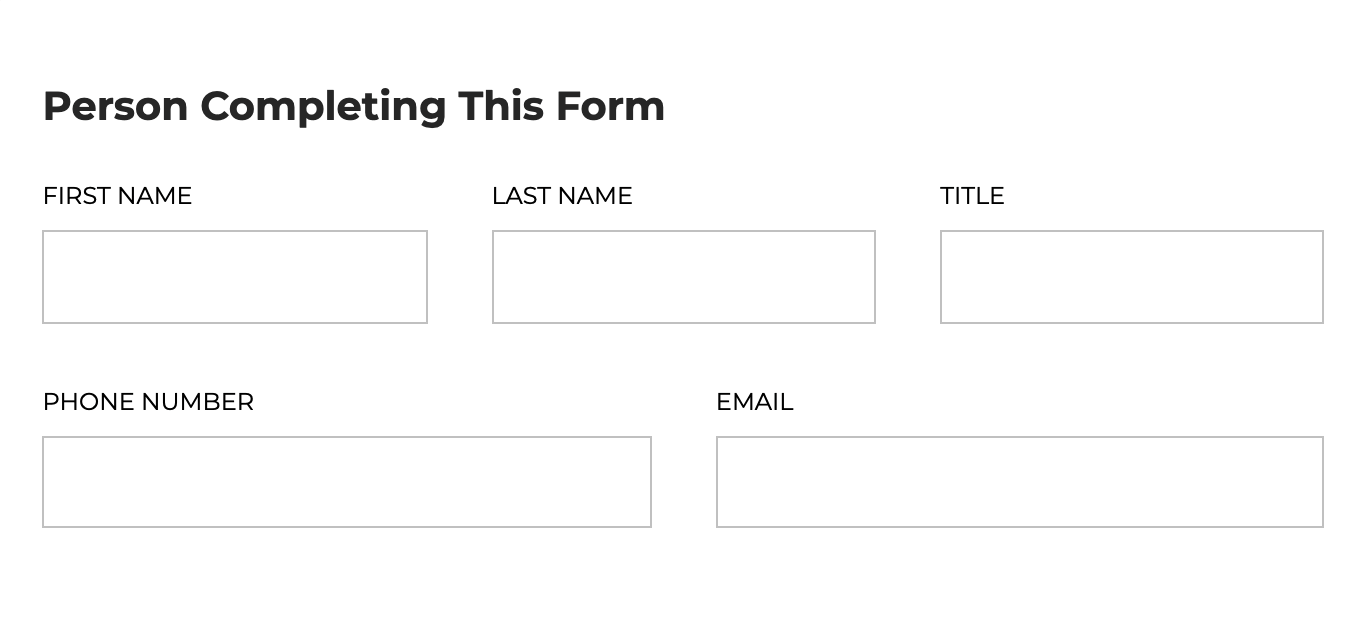 If another person will be the contact person, please fill out the person who will be the on-site coordinator so that the NMDOH can get back to you: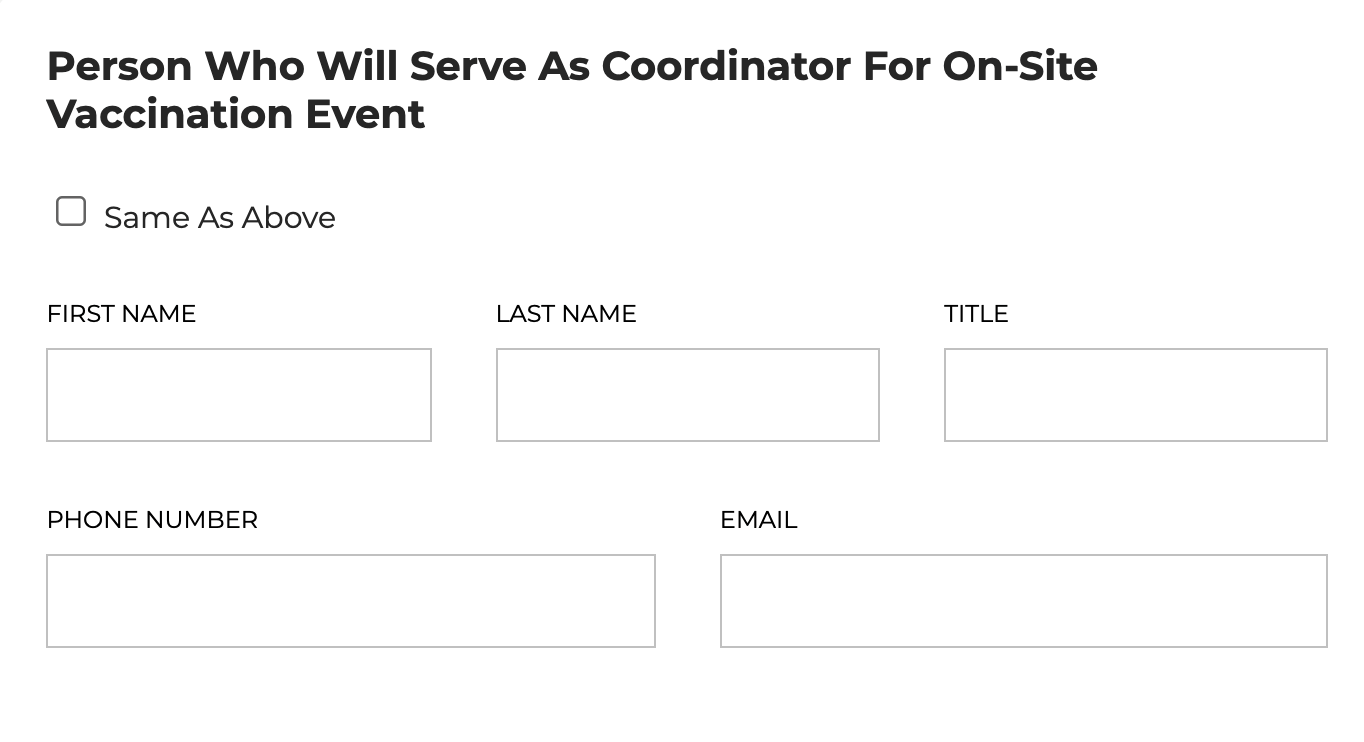 Then fill out the organization information: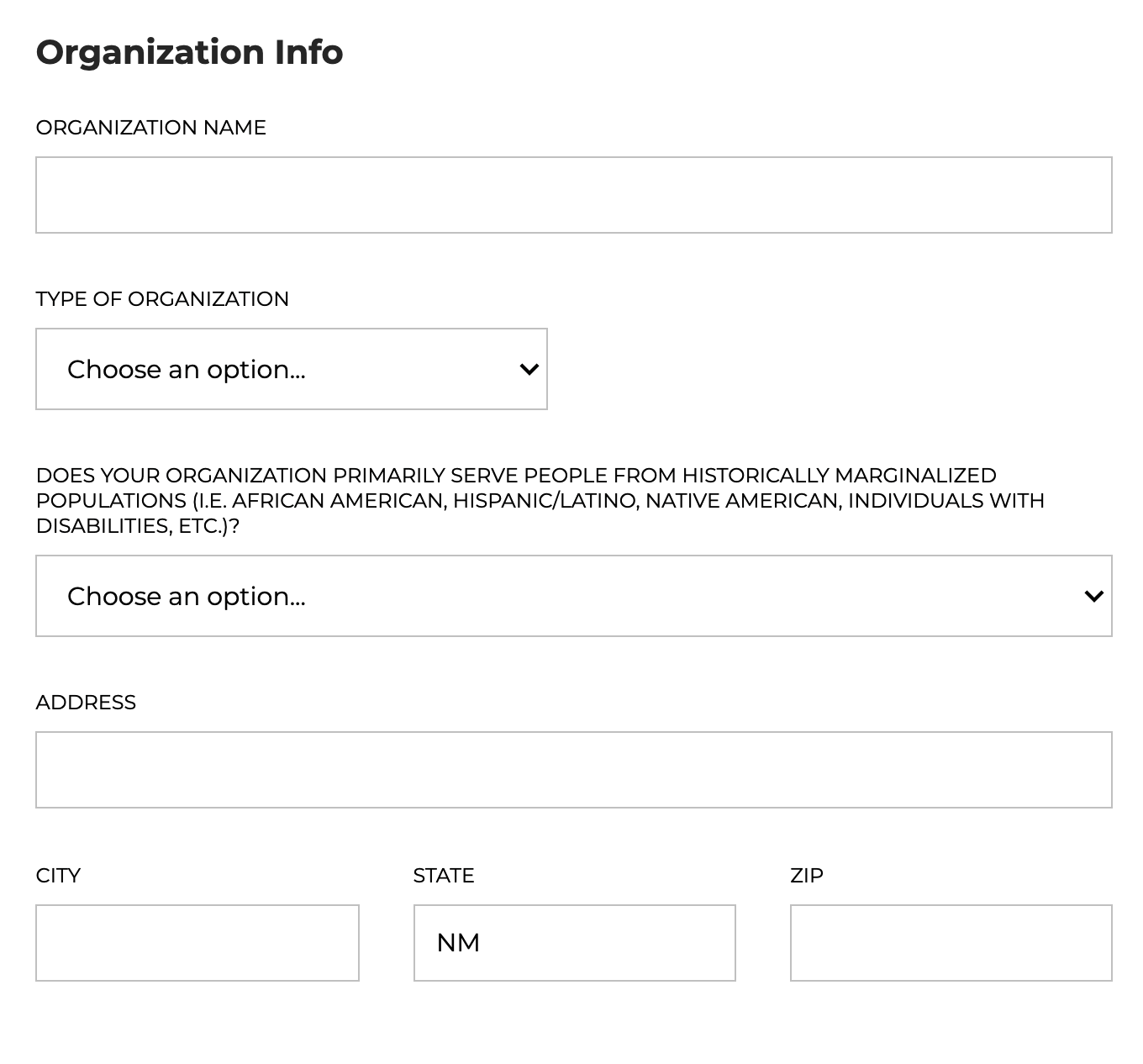 On the dropdown for type of organization, there are several different types of organizations that you can fill out. Select the one that closest matches your site: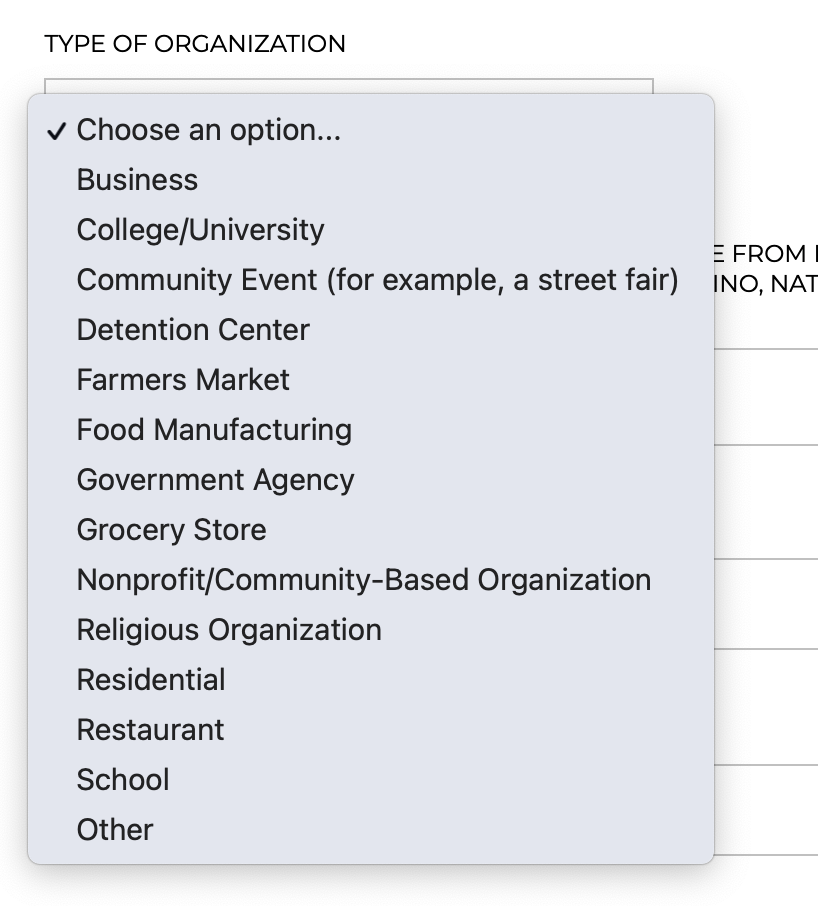 Then share the event details so our team can schedule appropriately: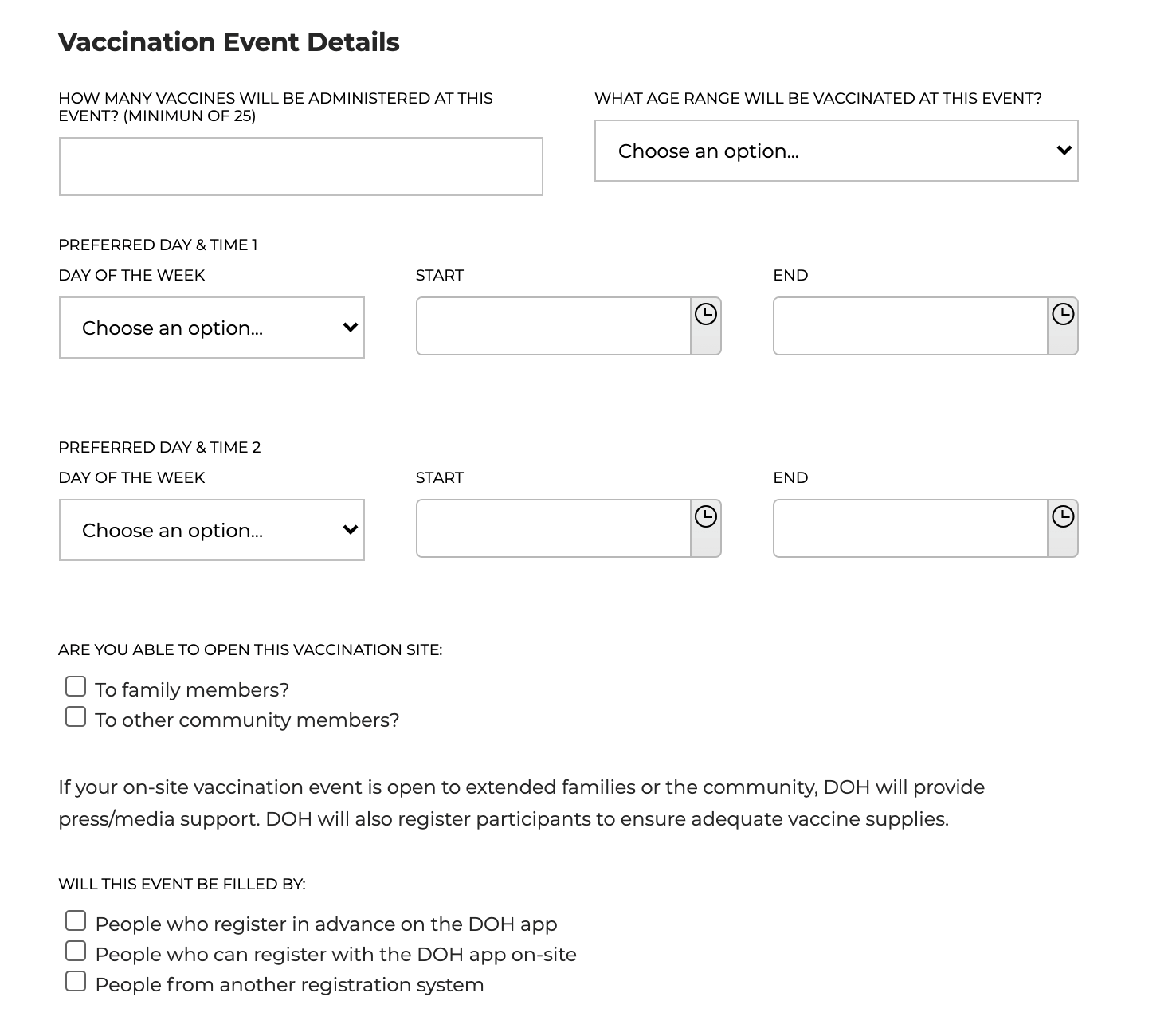 And then finally, the site details so that we can know what type of thing we need to bring to the vaccination site: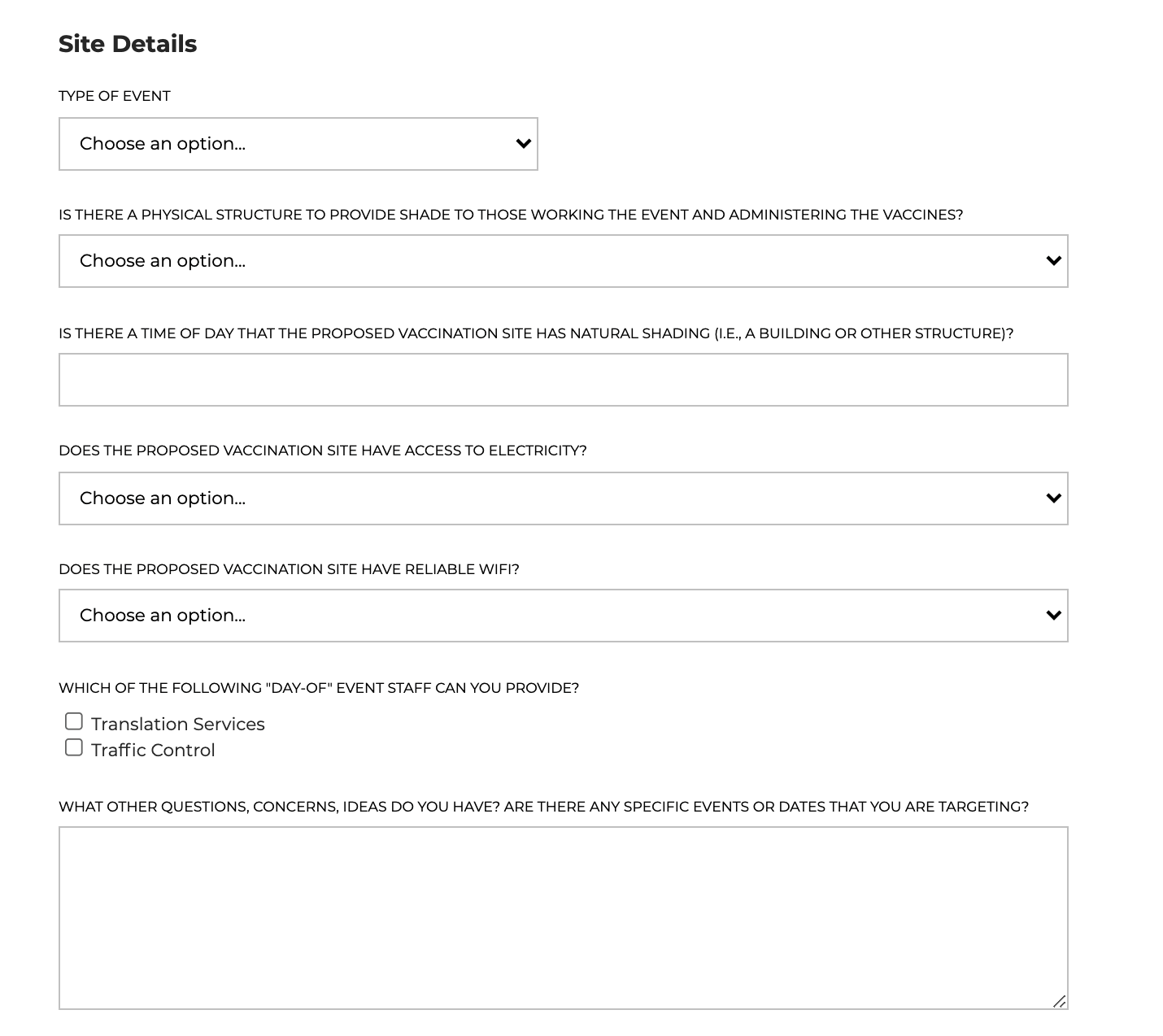 Where to find events: Events organized by different people may be listed on different sites. The best way to find an event near you is to check for one on these sites:
Uber and Lyft may be able to provide free or discounted rides to a COVID-19 vaccine site near you! Please visit each linked website for more information.
Anyone who has any suspicion they may have COVID-19 symptoms or who has a known exposure to COVID-19 should get tested. Knowing whether you are infected with coronavirus can help protect yourself and your community.
Two ways to get tested are shown below:
VAULT: At-home self-testing
This self-testing service is offered at no-cost (including free shipping) and no insurance is required! After an order is placed, a testing kit will arive at your home and a VAULT supervisor will virtually guide you through how to use the test. Once your test is sent back to the lab, you will recieve your results between 24 to 48 hours.
Find a testing location near you
NMDOH maintains a testing site locator that can aid you in finding a COVID-19 testing location anywhere in the state of New Mexico. You can filter your search by city, zipcode, site types (such as walk-ins), and testing type (such as by ages for children). An interactive map showing various testing sites around the state is also included.
For additional help with finding a testing option for you, please contact the NMDOH helpline at: 1-855-600-3453
For information on testing protocols for detention centers or homeless shelters, click here.
Antibodies are proteins that are naturally produced by your body to identify foreign invaders that may cause you harm — like the coronavirus! They attach to the foreign molecule and prevent it from infecting other cells in your body.
What are monoclonal antibodies?
Monoclonal antibodies are created inside a laboratory, but act similar to the antibodies your body produces. Many monoclonal antibodies are approved by the FDA to help treat cancer and other autoimmune diseases. They are placed inside your body through intravenous infusion or by injection.
To read more from NMDOH about monoclonal antibodies, please visit cv.nmhealth.org/covid-19-monoclonal-antibody-treatments/
Who should be treated with monoclonal antibodies?
Anyone who is at high risk for getting severely sick from COVID-19 should get treatment. This includes:
Obesity with a BMI of 35 or greater
Chronic Kidney Disease
Pregnancy
Diabetes
Immunosuppressive Disease
Those aged 64 years and older
Those who are aged 55 years or younger who have one or more of the following conditions: Cardiovascular disease, Hypertension, Chronic obstructive pulmonary disease or another respiratory disease.
A booster shot is given to boost immunity that has decreased over time since the initial doses. A COVID-19 booster shot for people who were vaccinated 8 months ago is likely to be approved this fall. 
An additional dose is recommended only for moderate to severely immunocompromised individuals who may not have not gotten a strong enough immune response from their initial COVID-19 vaccination series of either Moderna or Pfizer. This can be given 28 days after the second shot. 
Booster Dose: Commonly Asked Questions
Who qualifies for the booster shot at this time?
No one qualifies for the booster shot at this time. Check back for updates. 
When can I receive my booster shot?
Boosters will be available after the FDA and CDC approve and recommend a booster shot. Right now both agencies are reviewing safety and effectiveness data. 
Additional Dose: Commonly Asked Questions
Who is eligible for an additional dose of Pfizer or Moderna?
A comprehensive list of eligible conditions can be found on the CDC Website under "Who Needs an Additional COVID-19 Vaccine?". Please talk to your provider or pharmacist to see if a 3rd dose of a COVID-19 vaccine is right for you.
How do I schedule an additional dose?
We recommend you schedule your third dose with your primary care physician, specialist, or pharmacist. You can also register for your third dose through the NMDOH website.
Does it matter which brand of vaccine I receive as my additional dose?
It is recommended that each individual get the same brand of vaccine they got for their first two doses.
How long should I wait after my second dose to receive the additional dose?
You should wait at least 28 days after your second shot.
What about those who have received the Johnson & Johnson single shot vaccine? Should they get an additional dose?
There is no recommendation for an additional shot for those who received the J&J (Janssen) vaccine at this time. 
Educational Flipchart 2nd Edition
A flipchart is an education tool used by CHWs throughout the world. This flipchart was created to help CHWs and other community partners to share vaccine facts, address vaccine concerns and myths,  educate about the COVID variants, and combat misinformation. One of the biggest threats to ending the COVID pandemic is information that is false, inaccurate or misleading. This flipchart was a co-creation by the NMDOH, partners at UNM's Community Health Workers Initiatives, CHWs throughout the state, and our summer intern team.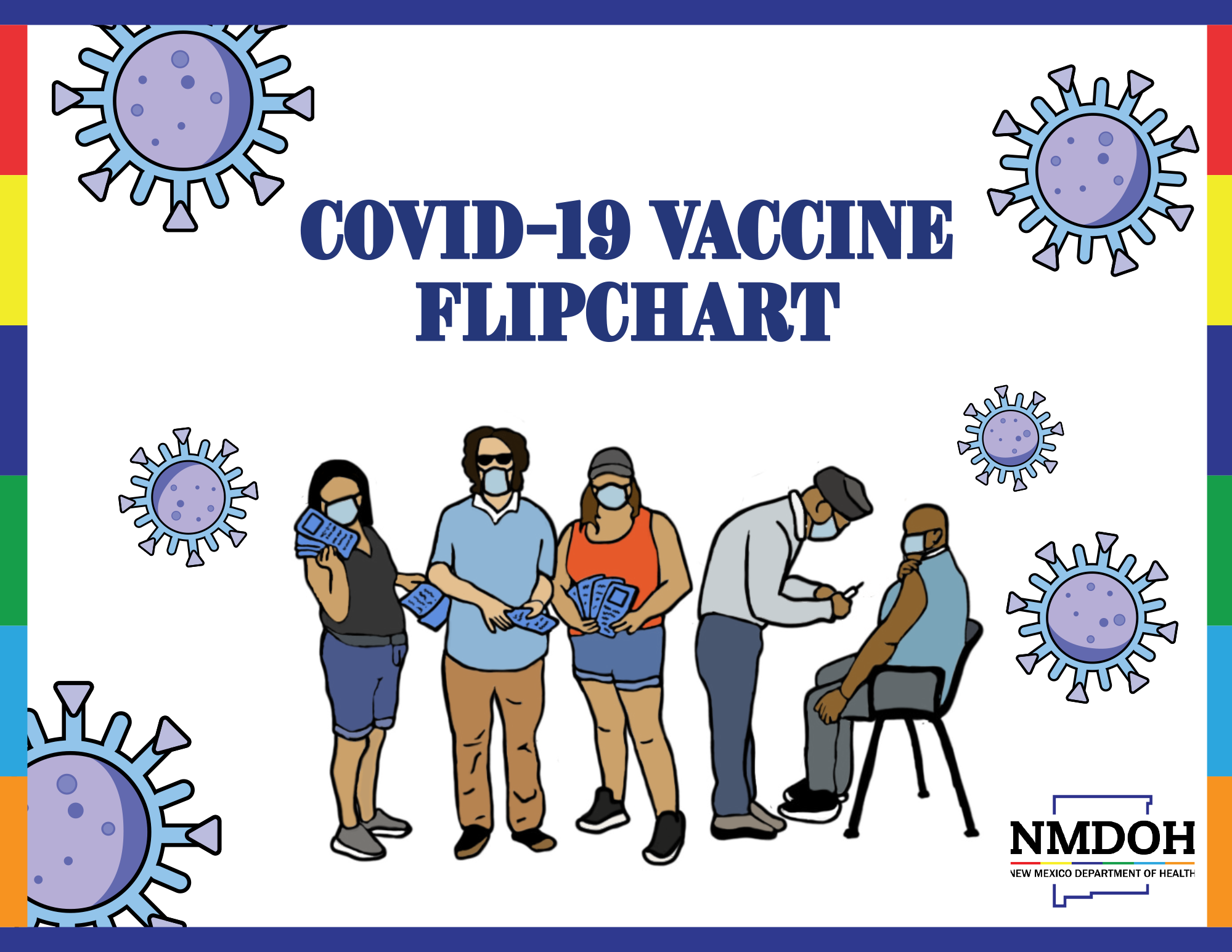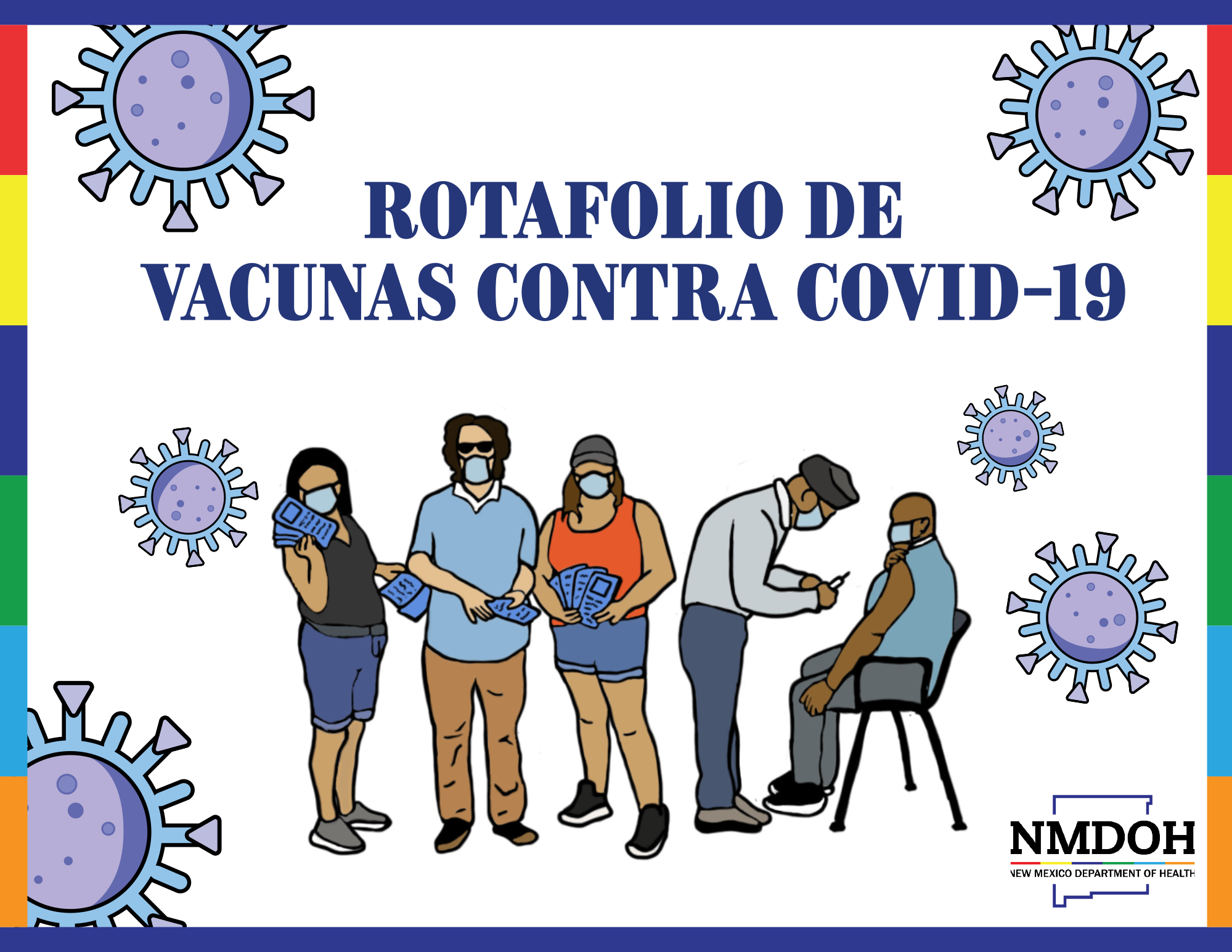 How To Use the Flipchart
The flipchart is designed for use by CHWs and other community partners to share information with community members.
The flipchart is organized into four parts:
Vaccine Facts
Vaccine Concerns
Vaccine Myths
COVID-19 Variants
These sections were designed to make sharing information more navigable. If you have any suggestions please direct them to: dmatthewstrigg@salud.unm.edu
Flipchart Tutorial English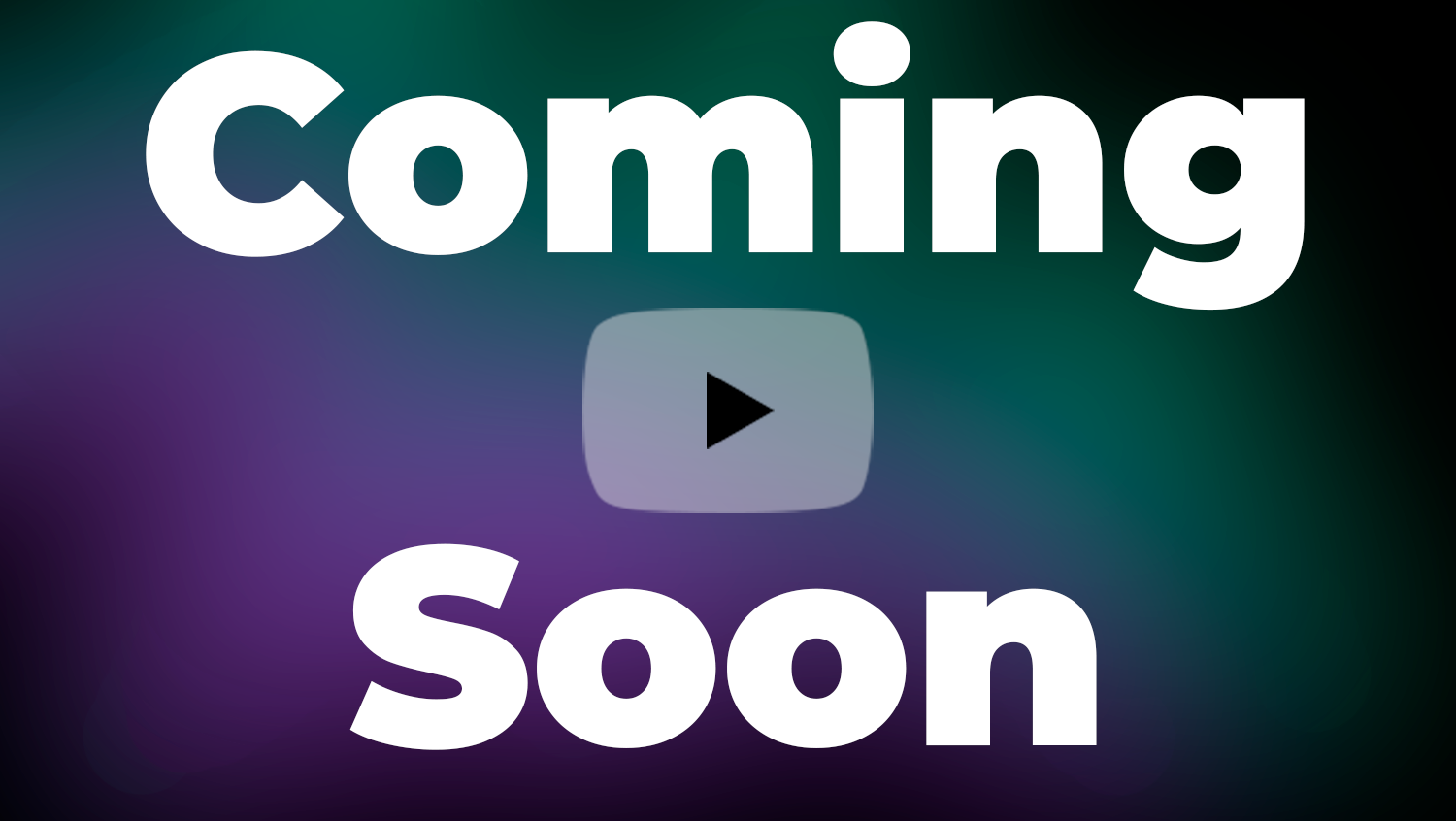 Flipchart Tutorial Spanish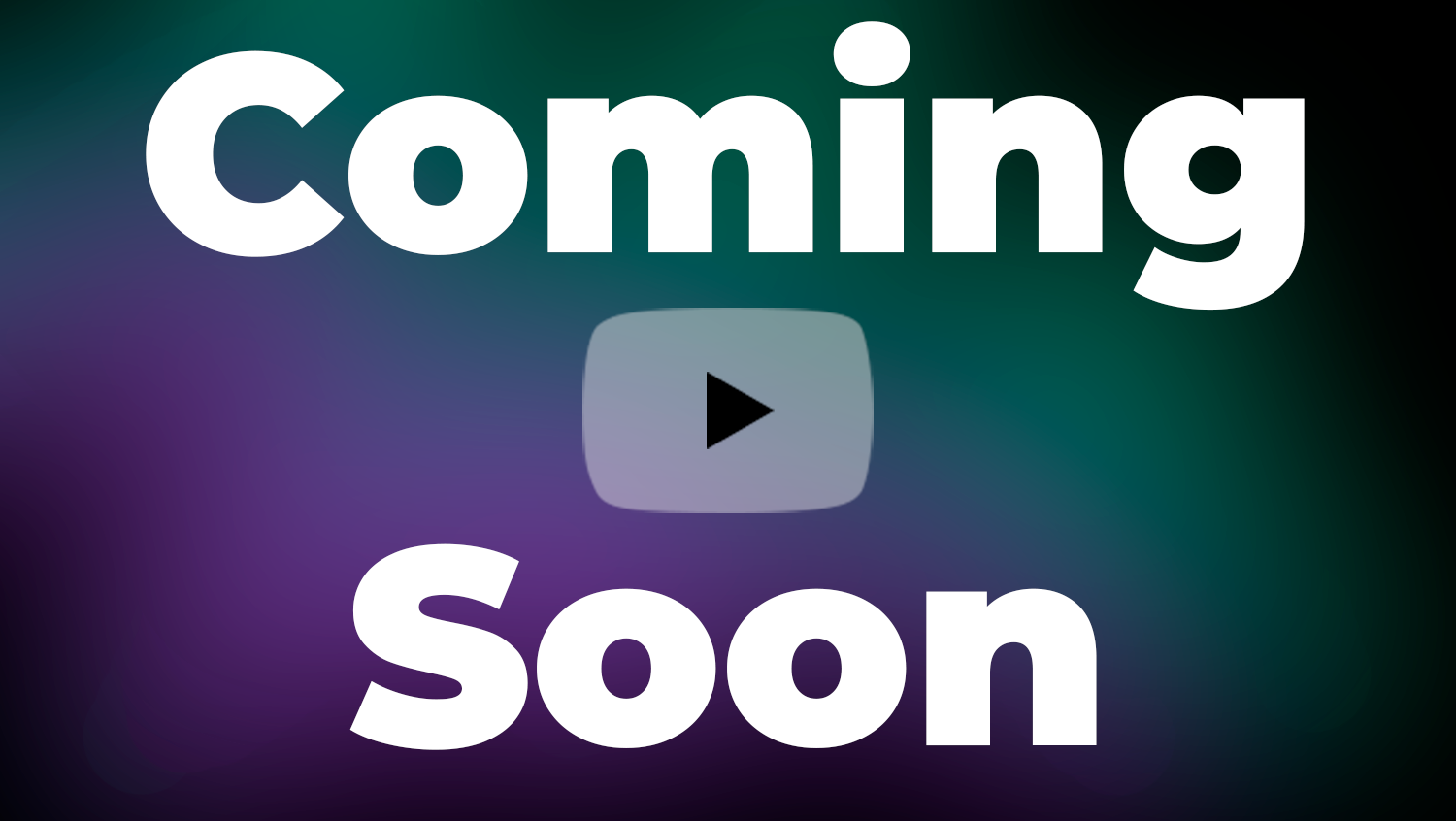 Sorry! This section is under construction. Please come back at a later date to find our CHWI training materials and other useful information!
Data is part of NMDOH's Health Equity Plan. American Indian, Black/ African American, and Hispanic/ Latino populations, and people living in poverty have been hardest hit by COVID-19 in our state as seen in our COVID case reports. While much of our American Indian  populations have been vaccinated, our Black/ African American and Hispanic/ Latino populations as well as many of our poorest communities in New Mexico have lower vaccination rates. Being able to track the data on vaccinations by tracking racial/ethnic doses and the Social Vulnerability Index, can help us identify  where we need to focus our vaccination efforts to address health equity  so we don't lose any more lives to COVID.
Collectively, we can all work to help prevent COVID illness, hospitalizations and deaths, and we can use data to track our efforts.
COVID-19 Vaccine Dashboard: vaccinenm.org/public-dashboard.html
COVID-19 Act Now Realtime U.S. COVID-19 Map & Vaccine Tracker (can search different counties or the whole state): covidactnow.org/?s=21321055
COVID-19 Risk Map: Based Level of Transmission (Someone being able to give it to someone else); How high is your risk of getting COVID-19 in these areas? covid.cdc.gov/covid-data-tracker/#county-view
Vaccine Equity Risk Map: SVI stands for Social Vulnerability Index. It is a measure that combines categories such as poverty, housing and vehicle access to determine how well a community can respond to and recover from disease outbreaks like COVID or disasters. The higher the SVI, the more vulnerable a community is. On this map red means high social vulnerability and low vaccination rates. We need to focus our efforts in these areas: covid.cdc.gov/covid-data-tracker/#vaccination-equity
COVID Epidemiology Reports: NMDOH is committed to providing New Mexico residents with the most current information regarding COVID-19 in the state. As part of the COVID-19 pandemic response, NMDOH collects and analyzes statewide data for COVID-19 positive cases, hospitalizations, and deaths. These are  updated weekly: cv.nmhealth.org/epidemiology-reports/
New Mexico Department of Health Vaccine Resources

CHWs Help Support State Vaccination Effort: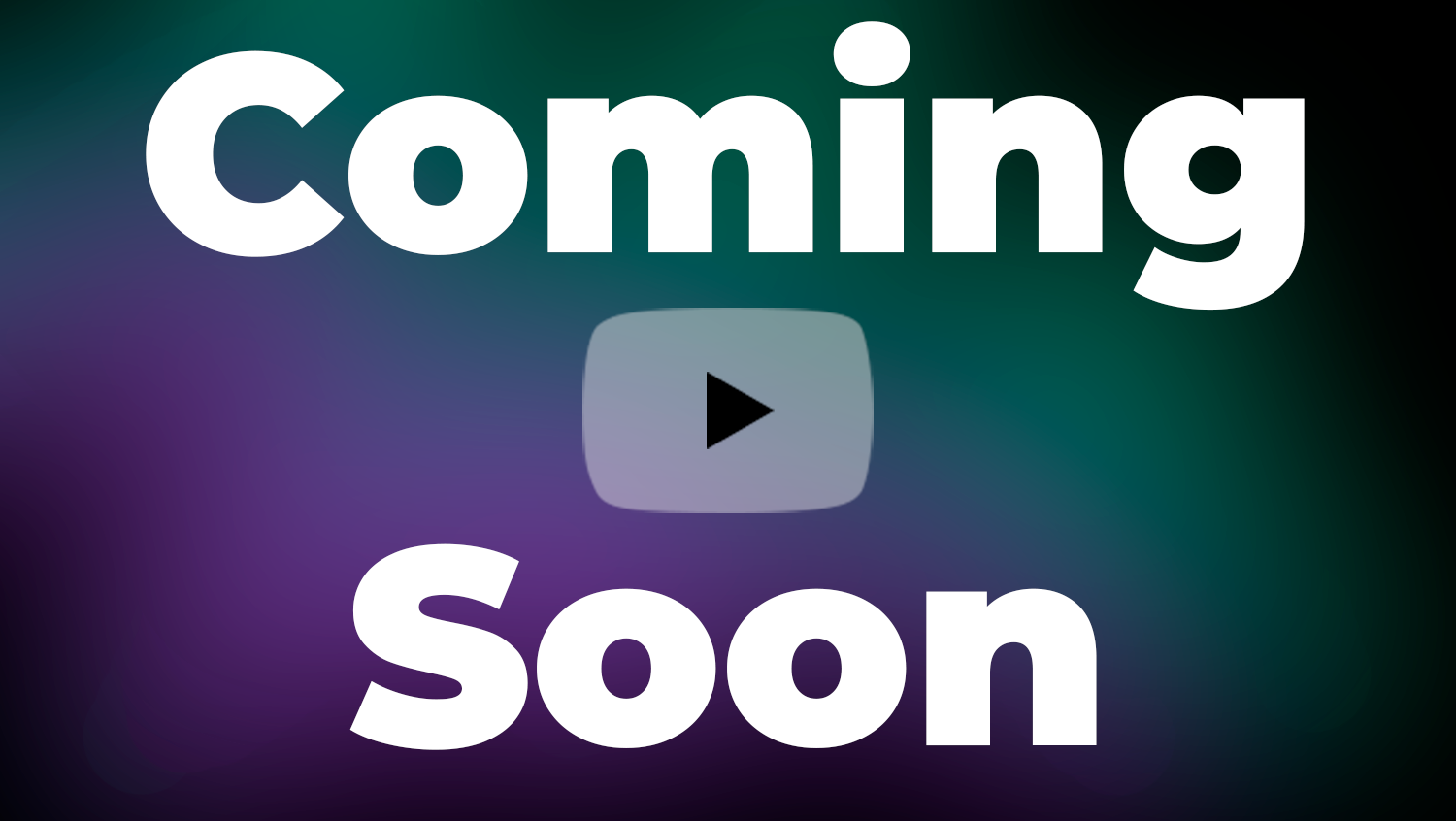 Frequently Asked Questions
Question: I lost my vaccine card. How can I get another one?
Answer: New Mexicans who misplace their vaccine card can contact the provider that administered their vaccine and ask for a replacement. New Mexicans can also visit www.vaxviewnm.org to obtain their immunization record, which should show that they've completed the vaccine series (assuming the provider has correctly reported it to NMSIIS already). If you experience difficulty logging in, please call the NMSIIS Help Desk at 833-882-6454 for assistance.
Question: Does the COVID Vaccine cause infertility?
Answer: No, it does not cause infertility.
Claims that COVID-19 vaccines can cause infertility are circulating on social media and among some concerned individuals. There is zero scientifically based evidence that vaccines affect fertility. And that goes for men as well as women.
Here are is some additional information about COVID-19 vaccines and pregnancy:
During the COVID-19 vaccine clinical trials, participants were asked to not get pregnant. Despite this request, 23 women became pregnant after receiving the Pfizer-BioNTech vaccine as part of the clinical trials.
No adverse effects were reported by those women.
https://www.cincinnatichildrens.org/patients/coronavirus-information/vaccines/fertility
Question: Is misinformation a threat to beating the COVID19 Pandemic?
Answer: Yes, misinformation is a threat. The surgeon general declared misinformation a public health emergency. Here is the document that outlines what you can do:
https://www.hhs.gov/sites/default/files/surgeon-general-misinformation-advisory.pdf
Highlighted Locations for Moderna or Pfizer Booster Doses.
| Date | Location | Start | End | City | Event Code | Vaccine Type |
| --- | --- | --- | --- | --- | --- | --- |
| 6/14/2021 | Desert Sage Academy – Schedule | 12:00 | 6:00 | Santa Fe | RLREDSR | Pfizer |
| 6/14/2021 | Westside Community Center – Schedule | 11:00 | 7:00 | Albuquerque | WRJYMWV | Moderna |
| 6/14/2021 | Las Cruces Convention Center – Schedule | 9:00 | 2:00 | Las Cruces | ERYORD | Moderna |
| 6/15/2021 | Expo NM – Tingley Coliseum – Schedule | 2:00 | 7:00 | Albuquerque | GSDGWW | Pfizer |
| 6/15/2021 | Westside Community Center – Schedule | 11:00 | 7:00 | Albuquerque | VOIMVXG | Moderna |
| 6/15/2021 | Presbyterian – Schedule | 9:00 | 7:00 | Albuquerque | MFFGJWH | Pfizer |
| 6/15/2021 | Las Cruces Convention Center – Schedule | 2:00 | 7:00 | Las Cruces | SEHDSK | Moderna |
| 6/16/2021 | Desert Sage Academy – Schedule | 12:00 | 6:00 | Santa Fe | CBBVRLY | Pfizer |
| 6/16/2021 | Expo NM – Tingley Coliseum – Schedule | 2:00 | 7:00 | Albuquerque | OYLRRO | Pfizer |
| 6/16/2021 | Los Alamos High School – Schedule | 12:00 | 2:00 | Los Alamos | QFCGZTO | Moderna |
| 6/16/2021 | National Hispanic Cultural Center – Schedule | 10:00 | 16:00 | Albuquerque | YYSLWO | Moderna |
| 6/16/2021 | Westside Community Center – Schedule | 11:00 | 7:00 | Albuquerque | ZGSOHHS | Moderna |
| 6/16/2021 | Las Cruces Convention Center – Schedule | 9:00 | 2:00 | Las Cruces | LOKETH | Pfizer |
| 6/17/2021 | National Hispanic Cultural Center – Schedule | 10:00 | 12:00 | Albuquerque | YYSLWO | Moderna |
| 6/17/2021 | Desert Sage Academy – Schedule | 10:00 | 12:00 | Santa Fe | OWEVDS | Moderna |
| 6/17/2021 | National Hispanic Cultural Center – Schedule | 9:00 | 11:00 | Albuquerque | TFHDOS | Moderna |
| 6/17/2021 | Las Cruces Convention Center – Schedule | 4:00 | 7:00 | Las Cruces | URTOSP | Pfizer |
| 6/17/2021 | Westside Community Center – Schedule | 11:00 | 7:00 | Albuquerque | VVJBOLZ | Moderna |
| 6/17/2021 | Casa Feliz/International District – Schedule | 3:00 | 8:00 | Albuquerque | FELIZ | Pfizer |
| 6/17/2021 | Kewa Pueblo Health Corporation – Schedule | 8:00 | 4:30 | Santo Domingo | 505-465-5524 | Pfizer/Moderna |
| 6/17/2021 | Expo NM – Tingley Coliseum – Schedule | 8:00 | 5:00 | Albuquerque | HMDJNDX | Pfizer |
Highlighted Locations for the Johnson & Johnson vaccine.
| Date | Location | Start | End | City | Event Code |
| --- | --- | --- | --- | --- | --- |
| 6/14/2021 | Desert Sage Academy – Schedule | 12:00 | 6:00 | Santa Fe | RLREDSR |
| 6/14/2021 | Expo NM – Tingley Coliseum – Schedule | 1:00 | 4:00 | Albuquerque | MFVZKPR |
| 6/14/2021 | Las Cruces Convention Center – Schedule | 9:00 | 2:00 | Las Cruces | ERYORD |
| 6/14/2021 | Westside Community Center – Schedule | 11:00 | 7:00 | Albuquerque | WRJYMWV |
| 6/15/2021 | Expo NM – Tingley Coliseum – Schedule | 2:00 | 7:00 | Albuquerque | GSDGWW |
| 6/15/2021 | Presbyterian – Schedule | 9:00 | 7:00 | Albuquerque | CGELVHA |
| 6/15/2021 | Las Cruces Convention Center – Schedule | 2:00 | 7:00 | Las Cruces | SEHDSK |
| 6/15/2021 | UNM – The Pit – Schedule | 8:00 | 12:00 | Albuquerque | BLBLZRK |
| 6/15/2021 | Westside Community Center – Schedule | 11:00 | 7:00 | Albuquerque | VOIMVXG |
| 6/16/2021 | Desert Sage Academy – Schedule | 12:00 | 6:00 | Santa Fe | CBBVRLY |
| 6/16/2021 | Estancia PHO – Schedule | 12:00 | 12:30 | Estanica | FBADRFT |
| 6/16/2021 | Expo NM – Tingley Coliseum – Schedule | 2:00 | 7:00 | Albuquerque | OYLRRO |
| 6/16/2021 | Los Alamos High School – Schedule | 10:00 | 2:00 | Los Alamos | FREEDOM |
| 6/16/2021 | Westside Community Center – Schedule | 11:00 | 7:00 | Albuquerque | ZGSOHHS |
| 6/16/2021 | Las Cruces Convention Center – Schedule | 9:00 | 2:00 | Las Cruces | LOKETH |
| 6/16/2021 | Aztec PHO – Schedule | 10:00 | 11:00 | Aztec | KRGYDND |
| 6/16/2021 | Grant County PHO – Schedule | 8:00 | 9:30 | Silver City | BYYZZLL |
| 6/16/2021 | UNM – The Pit – Schedule | 8:00 | 5:00 | Albuquerque | TQMDQAA |
| 6/17/2021 | Desert Sage Academy – Schedule | 10:00 | 12:00 | Santa Fe | OWEVDS |
| 6/17/2021 | National Hispanic Cultural Center – Schedule | 9:00 | 11:00 | Albuquerque | TFHDOS |
| 6/17/2021 | Las Cruces Convention Center – Schedule | 4:00 | 7:00 | Las Cruces | URTOSP |
| 6/17/2021 | Nor Lea Hospital – Schedule | 7:30 | 10:00 | Hobbs | DTHERN |
| 6/17/2021 | Roswell PHO – Schedule | 9:30 | 12:00 | Roswell | UORNWI |
| 6/17/2021 | UNM – The Pit – Schedule | 8:00 | 5:00 | Albuquerque | KTXKNFS |
| 6/17/2021 | Westside Community Center – Schedule | 11:00 | 7:00 | Albuquerque | FFTZWHI |
| 6/17/2021 | Casa Feliz/International District – Schedule | 3:00 | 8:00 | Albuquerque | FELIZ |
| 6/17/2021 | Kewa Pueblo Health Corporation – Schedule | 8:00 | 4:30 | Santo Domingo | 505-465-5524 |
| 6/17/2021 | John's Pharmacy – Schedule | 10:00 | 5:00 | Albuquerque | GZTYIUA |
| 6/17/2021 | Expo NM – Tingley Coliseum – Schedule | 8:00 | 5:00 | Albuquerque | HMDJNDX |